Culligan BluSoda Bottle-Free® Water Cooler

Compact, Effective, Efficient. The Office Hero.

A high-performance, bottleless water cooler to match work productivity.

The high-performance Culligan BluSoda Bottle-Free® Water Cooler dispenses quality water in an attractive, space-saving design that complements any office setting.

Culligan Wave Bottle-Free® Water Cooler

A high-performance, bottleless water cooler to match work productivity.

The Culligan Wave Bottle-Free® Water Cooler upholds the highest standards for water distribution. With a stunning stainless steel, Italian design and state-of-the-art technology, it delivers quality hydration on demand to the entire office.

Culligan BluSoda and Wave Box Bottle-Free® Water Cooler

The Under-Counter Water Cooler Solution That Makes Hydration Easy.

The Culligan BluSoda and Wave Box are bottleless water cooler dispensers that deliver cold, sparkling and room-temperature water at your convenience. Staying healthy and hydrated during a long work day has never been easier. 

Culligan Bottle-Free® Water Cooler

Whether your office - break room - shop or warehouse needs one or more Bottle Free Coolers, Culligan can provide your drinking water needs.

Culligan provides these Premium Coolers at a cost effective monthly rate. 

Most of our Bottle Free Cooler series run between $26-$53** per month.

** Multiple coolers receive special pricing

Sales Manager

859-236-4965

to find out more
Bottle-Free
Purified (Reverse Osmosis) Water Coolers
Bottle-Less
Standalone
Premium Series Bottle-Free Cooler
Get your business off the bottle -- 6 reasons to switch to Culligan bottle-free water coolers.
Bottle-Free is hassle-free.

It's better for the environment.

Never run out of water, eliminate bottle deliveries and receive on predictable invoice.

Keep plastic out of landfills, and support your company's green initiatives.

It's more sanitary.

You'll save money.

Our units produce water that is never exposed to contaminants in the air or touched by human hands.

Significant cost savings cmopared to your current bottled water spend plus back-office processing savings.

No more lifting 42-lb bottles.

Same quality as bottled water.

Prevent injuries, eliminate spillate, and get out of the bottle storage business.

80% of 5 gallon bottled water and packaged water is made by Reverse Osmosis!
Culligan Purified Premium Bottle-Free Water Cooler
50 gallon/day Reverse Osmosis System
Triple Filters (Sediment, Carbon, Polishing)
Hot, Cold, Room Temperature
UV Light for Cold Tank Sterilization
BioCoem™ for Bacteria Protection
Internal Leak Detection Shut-Off
Internal Storage Reservoir
Culligan Water of Danville invites you to stop by our office and view the different models on display.
or
Sales Manager, today at
859-236-4965
about your water filtration needs.
Copyright 2013, Culligan Water Conditioning of Danville. | PO Box 244, Danville, Kentucky 40423-0244
859-236-4965 | 800-892-6414 (within Kentucky) | Fax 859-236-4965
Site Updated November 10, 2013 | Page last updated January 11, 2019
Horses Grazing at Sunset in Boyle County, Kentucky.
For Price Quotation
Or Preliminary Design

Contact Culligan of
Danville Kentucky

phone:
800 892-6414
email:
culliganky@qx.net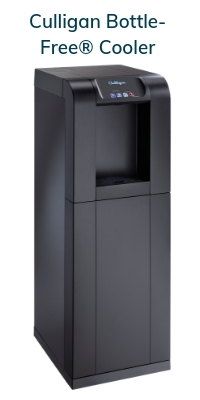 "BottleLess" Purified Water Coolers for the Office (Central Kentucky Only)
Culligan of Danville offers "purified," "standalone," "BottleLess" water coolers for the office. These Bottle-Free water coolers available in Central Kentucky, utilize triple filtration of city water followed by reverse osmosis. The bottled water coolers use triple-filters to remove chlorine, particulate, organic, and taste and odor compounds. These reverse osmosis water coolers remove 95% of all minerals. Ask about the Culligan Bottle-Free® Cooler, Culligan® BluSoda™, Culligan® WAVE and Culligan® BluSoda™ & WAVE Box. These coolers can be rented for an economical monthly fee, which includes all services and filter changeouts.